camping
For this adventure I took my family on camping trip to Kleinrivier Wilderness Area. It was a 400km drive to the Reserve which is located near Uitenage.
We camped at a site called Soetdorings ("Sweet Thorns"), so named because of the thousands of thorn trees throughout the reserve.
We booked out the entire site so that we could have it to ourselves (it only caters to a maximum of seven campers).
It has a big covered lapa with sink and wood stove and fire place. Two of the main attractions of the small site are the man-made natural rock pool, under the shade of acacia trees, and a stone-built flush-toilet/hot shower (wood burning "donkey" geyser) with a large open window overlooking the Karoo hills.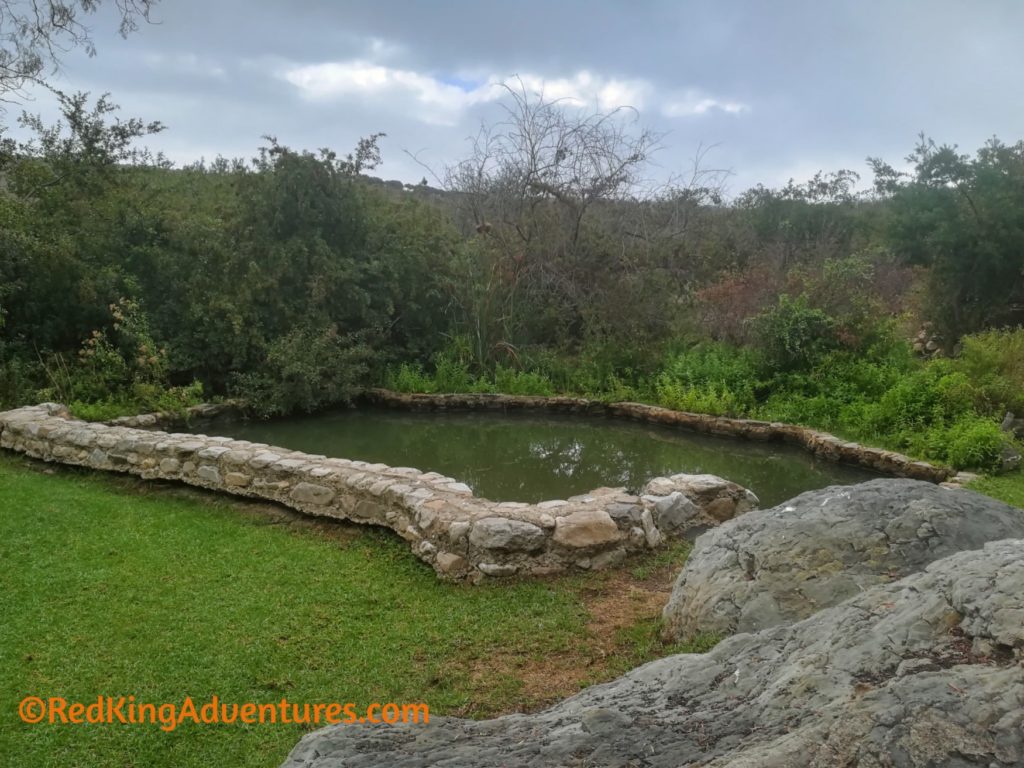 We arrived late in the afternoon, after the long drive, and spent the rest of daylight hours erecting our tents and getting settled, with a light drizzle making everything a bit wet.
The next morning we went on our first hike. Our plan was to do a walk along one of the meandering rivers, but the entire area was very dry and there was not a drop of water in the empty river beds.
Nevertheless, it was a enjoyable, easy hike, with some gentle ups and downs through the rocky terrain. It was about a 7km walk.
Here's a video of us exploring the Riverside Hike at Kleinrivier:
On our way back we discovered another awesome little man-made rock swimming pool which we would visit at a later stage.
Once back at base it was a case of finding some cool shade to escape the stifling heat, and then a braai and some games.
That night we made a fire in the donkey geyser for hot showers.
Equipment I used on this adventure:
2 x campmaster 4-man dome tents (one for sleeping and one for all our gear)
Cowl sleeping bag
Spork
360 camping set
3-in-1 survival whistle/compass/thermometer
Headlamp
Zoomable torch
Espresso maker
Anti-chafe
Wearables:
Salomon trail shoes
Max ski pants
Falke socks
#RedKingAdventures
Along with fishing, Camping can be considered one of the oldest hobbies. The two usually go hand in hand too. If you look back about 200 years, camping wasn't at all a recreational activity but merely a means of moving from one part of the country to the next in the search of seasonal work.
The fundamental concept hasn't changed though, which was and will always be, to get hands-on with nature and escape the city life for a weekend or longer. Going back to the basics with friends and family by leaving behind all (or most) of the modern technology that is fitted into our homes.
This article is based on how tented camping has changed over the years, even though caravanning is as popular as ever with temporary mobile homes having perhaps not so much transformed on the outside as they have on the inside.
Back in the day people relied on their knowledge and instinct to survive a weekend in the mountains or next to the dam. Before setting up the tent people would have weighed the possibility of rain and how their tents would be affected in the event of showers. Fires were the norm with, not at all fancy looking, metal kettles providing the first coffee of the morning. It was also nearly a pleasure to wait for the water to take ten times longer to get to boiling point than it did back home with an electrical kettle.
Our human dependence on technology has a lot to do with the manner in which camping has evolved to what is available in outdoor stores today. Modern day equipment nowadays is highly specialized and complex, with features that seem to defy the purpose of setting up temporary shelters away from home. In fact, it is safe to say that camping has become a glamorous activity (hence the new phrase "Glamping").
The bedding, chairs and cooking equipment has fancified the entire outdoor scene. Outdoor stores now stock amazing looking carpets that are thrown inside of very technologically advanced tents that are unlikely to shake at hurricane speed winds. Folded beds are made out of beautifully varnished wood with patterned duvets and pillow cases
Who of you have old sleeping bags rolled up and tucked somewhere in the cupboard? I dare you to take them out and read up on the latest sleeping bags' features. Isn't it unbelievable that nearly every camping item has evolved to something suitable for a James Bond movie?
The countless gadgets that are both functional and lightweight are astounding! The old fashioned cooler box has been replaced with electric freezers. LED lights mean no more gas lamps to light up the night until bed time. Pocket showers mean no more cloth and bucket washing.S
The Evolution of camping hasn't been a negative move though. Many of these new gadgets and improvements have left a lower carbon footprint and less damage to the campsites, nature and surroundings. It has also allowed certain unpleasant parts of temporary outdoor living to be bearable. Back in the day it was either dad or the eldest son who had the grievous task of emptying out the temporary toilet. These days so-called "poo-boxes" allow for very easy disposal of human waste and are available at many stores.
Change is good, and change is as good as a holiday – a camping holiday!
by Mariska Knoesen